mMMmm soyrizo scramble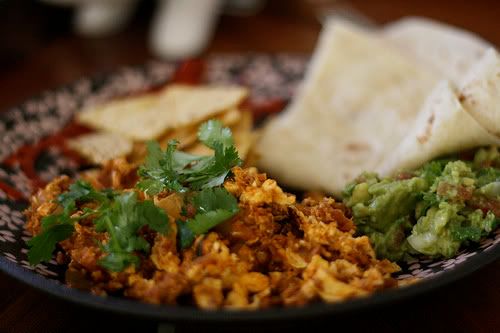 Ingredients to feed 4:
soyrizo scramble-
5 eggs
8 ounces soyrizo
1/2 onion chunked
1/2 tomato diced
pinch of pepper
guacamole
1/4 onion diced
1 avocado
1/2 tomato diced
1 tablespoon diced cilantro
1/4 lime
pinch of salt
4 tortillas
sriracha
With a non-stick frying pan, apply a few drops of olive oil to high heat. Let soyrizo cook to a thicker consistency for about 3-5 minutes. Bring down to medium heat. Add tomatoes and onions, then cook for another 3-5 minutes. Mix eggs in a separate bowl, then bring the eggs into the frying pan and cook for another 3-5 minutes until eggs are done.
Peel and mash avocados in a seperate bowl. Add lime juice, tomatoes, diced onions and cilantro to avocados. Mix together well.
On a skillet, lightly cook tortilla on each side for a minute or two on medium high heat.
Apply the soyrizo, guacamole, and tortilla onto a large dish. Garnish with sriracha and a feew sprigs of cilantro. Enjoy!!
---